Low Temperature Vacuum Evaporator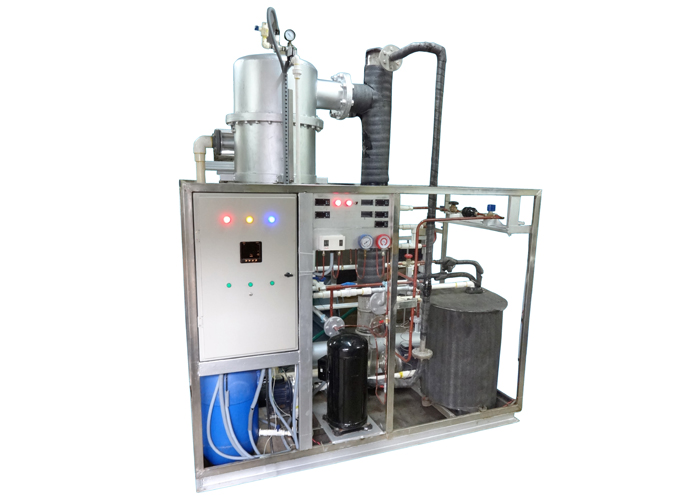 The low temperature vacuum evaporator vaporizes water at lower temperature around 40 Deg. C than normal 100 Deg. C due to vacuum.
Working Principle
The low temperature vacuum evaporator mainly consists of an evaporator tank 2, evaporator heat exchanger 4, process water circulation pump 3, refrigerant compressor 8, condenser heat exchanger 7, distillate tank 11, vacuum producing venture 13, and distillate circulating pump 12. The feed water enters the evaporator tank 2, and the feed water is circulated by the pump 3 to evaporator heat exchanger 4, where the feed water is heated by high pressure refrigerant from the refrigerant compressor 8. The hot water flashes as water vapor into the evaporator tank at the top. This water vapor passes through the mist eliminator 16 and the condenser heat exchanger 7. The refrigerant from the evaporator heat exchanger passes through air cooler and expansion valve and becomes cool liquid. The cool refrigerant cools the hot water vapor to distillate. The distillate is collected in the distillate tank. The distillate is circulated by the distillate circulation pump through a venture, which produces vacuum in the evaporator tank. The vacuum produced by the venturi in the evaporation tank causes process water boils between 40 to 50 Deg. C. The concentrated process water from the evaporator tank and the distillate from the distillate tank are automatically drained by the electrical controls. All necessary controls and switch gears are part of the system.

Advantages and features
independent of solution heating requirements
less or no air pollution
can handle heat sensitive compounds
carbonates do not build up scales as with other evaporators
Applications of 3R Low Temperature Vacuum Evaporators
INDUSTRIES
APPLICATION
Surface Treatment and
Electro-Plating
Recovery of Chrome, Nickel, Copper etc. from Rinse baths,
Recovery and reuse of Pickling and Phosphoric acids,
Concentration of Degreasing, Painting, Scrubber exhaust liquids.
Mechanical, Die-Casting, Heat Treatment
Separating water from Coolant and cutting Oil Emulsions,
Emulsions and cooling fluids from continuous wire drawing and rolling mills,
Recovery of Glycols, lubricants and Heat treatment salts.
PCB and Microelectronics
Recovery of copper and Concentration of Etching acid (HF) solutions and wastewaters.
Auto Component, Precision Electrical & Electronic Components, and Integrated large industries
Surface Treatment, degreasing, pickling, Painting, Cooling fluids, waste oils, scrubber solutions, Rejects of RO, Ion Exchange, Softener systems, High TDS effluent of End of Pipe ZLD solutions
Jewelry
Recovery of precious metals like Gold, Silver, Platinum etc. from process waste waters
BIO-DIESEL
Solvent recovery from process liquor
Pharmaceutical and Fine Chemical
Recovery of Solvents, heat sensitive active agents, and treatment and volume and COD reduction of wastewaters from chemical, wine, food and pharmaceutical industries
Herbal and Medicinal Extraction, & Essential Oils
Low Temperature Evaporation at less than 30 Deg.C for extraction of Bio-Active Extracts, Essential Oils, etc.
POWER Generation and
Petro-Chemical Trade Effluents
Concentration of high COD mixed effluents, Recovery of 95% water for reuse
STANADARD MODELS - 3R Low Temperature Vacuum Evaporators
3R VE - 50
3R VE - 100
3R VE - 150
3R VE - 250
3R VE - 500
3R VE - 1000
Evaporation Rate
LPH
50
100
150
250
500
1000
Input Power
kW
12.5
22
30
46
90
180
Boiling temperature
°C
<40
<40
<40
<40
<40
<40
Concentration Ratio
1/10 : 1/40
1/10 : 1/40
1/10 : 1/40
1/10 : 1/40
1/10 : 1/40
1/10 : 1/40
Vacuum
mmHg
700 mm Hg
700 mm Hg
700 mm Hg
700 mm Hg
700 mm Hg
700 mm Hg
Refrigerant
R22 / R134a
R22 / R134a
R22 / R134a
R22 / R134a
R22 / R134a
R22 / R134a
Voltage x Frequency
V x Hz
440V x 50 Hz
440V x 50Hz
440V x 50Hz
440V x
50Hz
440V x
50Hz
440V x 50Hz
MOC – Heat Exchanger Tubes
SS 316 Ti
SS 316 Ti
SS 316 Ti
SS 316 Ti
SS 316 Ti
SS 316 Ti
MOC - Vessels
SS 316 L
SS 316 L
SS 316 L
SS 316 L
SS 316 L
SS 316 L
MOC - Piping
SS 316 / CPVC
SS 316 / CPVC
SS 316 / CPVC
SS 316 / CPVC
SS 316 / CPVC
SS 316 / CPVC
MOC - Pumps
SS 316 /
SS 304
SS 316 /
SS 304
SS 316 /
SS 304
SS 316 /
SS 304
SS 316 /
SS 304
SS 316 /
SS 304
Length
mm
2500
3500
4000
5000
6000
9000
Width
mm
1250
1500
1500
1500
2000
2500
Height
mm
3500
3500
3500
3500
3500
3500